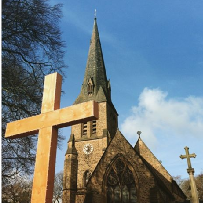 Click here to view the church
events calendar

Oberammergau Passion Play 2020
Interested? Click this box for more details


Wednesdays 9:30 – 11am
In St. George's Hall.
St. George's Appeal
Our running total is over £10,000 as we seek to raise £15,000 towards 3 new screens, 2 remote controlled cameras,
and a complex software update to
co-ordinate with our present screen.
(We are paying the other £17,000 from
our reserves).
The PCC has just spent nearly £4,000 on the 5 yearly re-lamping of the church lighting system.
Will you consider a gift to help complete our Audio Visual capability, which has added much to our services in the last 5 years?


update to co-ordinate with our present

screen. (We are paying the other

£17,000 from our reserves). Will you

consider a gift to help complete our _

Audio Visual capability, which has

added much to our services in the last

5 years?
The Wellspring
There is a shelf at the back of
St. George's Church for any donations
for The Wellspring. These will be
delivered by us on a regular basis.
St. Martin's Appeal
Our running total is now over our £5,000 target towards hearing loops, a defibrillator and car park resurfacing.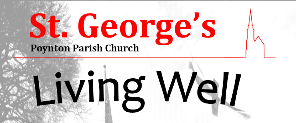 (Dementia Support)
Click on this box to learn more
Next session
Tuesday 23rd January, 2:15-4:15pm
in St George's Hall.
Please encourage any you know suffering with dementia to come along with their carer.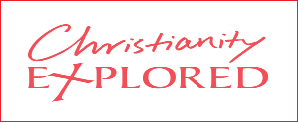 Parish Weekend
20-22 April 2018
Thornleigh Hotel, Grange-Over-Sands.
Speaker: Rev John Varty
Cost: £150 full board
Application forms now available in church. See Andy & Helen Livingston for details
Church Membership
If anyone is interested in finding out more about St. George's or St. Martin's, or is considering baptism or confirmation, or wondering about joining the C of E from another denomination, our Church Membership Course is 6.30pm on Sundays 11th, 18th, 25th February. Tell Rob (850524 / vicar@poyntonparishchurch.org) and come to the Vicarage, 41 London Road North.
Favourite Psalms
From January our teaching series Is "favourite psalms", on Sundays and at home groups.
Why not read the psalms over the holiday and know your favourite for the new year. We will put the brass eagle in the centre of church and encourage everyone and anyone to take a turn reading out their psalm.
Teaching Xtra
on the Psalms
6.30 pm on Sunday 28th January
in St. George's church hall.
St. Martin's Retired lunch
Thursday 18th January
Informal lunch for retired people who live
in Higher Poynton.
Please contact Audrey Lowe .
Bring & Share Lunch
Sunday 21st January
Without our usual overseer, we need everyone to 'muck-in'.
Quiet Service
6.30 pm Sunday, 21st January
Northumbria style.
All are welcome to join us in church for a time of peaceful reflection.
Mayors Fundraising
7:30 pm Friday 26th January
Royal British Legion
An evening of music with Acoustic Central, playing acoustic versions of popular songs from the 60's to the present day!
Raised funds divided between Living Well and Golden Memories Dementia care groups.
Tickets available from Royal British Legion, Mates DIY
or email:sarah-jane.gilmore@outlook.com
Saturday 27th January10.30am
at Wetherspoons, Poynton
Do join us for the first TnT event of 2018,
it would be great to see you. Please let Elizabeth Walker or Louise Coleman know if you can come.


Serve the Lord here
After Bruce's funeral and Irene Leigh's retirement, we are looking for leadership in key servant ministries.
Could you join the church cleaning team? And consider overseeing it?
Could you look after the Garden of Remembrance?
Could you oversee our bring & share lunches?
Please talk to a churchwarden, Brian Clarke or Rob
From Lesley
No, my mum and I haven`t moved yet, but hopefully it will happen later this month. As I can`t get to see everyone I would just like to say thank you to members of St. George`s and
St. Martin`s, for all the loving support you have blessed me with over many years, and for the gifts, cards, and good wishes, I have received.
Wishing you all a Blessed 2018.

From this month's Grapevine
A letter from Rob McLaren

Grapevine, our parish magazine.
Copies available (50p) at the back of church or why not have it delivered every month?
See Susan Warrington or contact the church office.
Click this box to see more