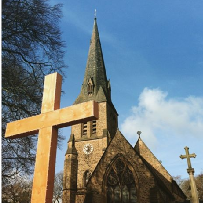 Promoting a Safer Church
The care and protection of children, young people and adults involved in Church activities is the responsibility of everyone who participates in the life of the Church. The PCC (Parochial Church Council) has adopted the House of Bishops' 'Promoting a Safer Church' (2017) and we are therefore committed to the following principles:
OUR COMMITMENTS:
Promoting a safer environment and culture

Safely recruiting and supporting all those with any responsibility related to children and vulnerable adults

Responding promptly to every safeguarding concern or allegation

Caring pastorally for victims/survivors of abuse or other affected persons

Caring pastorally for those who are the subject of concerns/allegations of abuse or other affected persons

Responding to those that may pose a present risk.
If you, or anyone you are in contact with, would like to talk with someone independently
Alternatively, you may contact the Parish Safeguarding Officer Hannah Brackenbury (01625 879277) or the Diocesan Safeguarding Adviser in the Diocese of Chester, via email (pauline.butterfield@chester.anglican.org) or phone: 07703 800031.