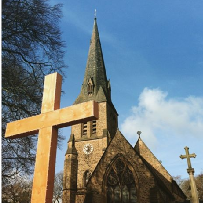 Services at Poynton Parish Church - post lockdown
As lockdown is gradually lifted, current Government and C of E guidelines mean that our church services will not resume in the format we all have known. They will be much shorter with little participation, we will have to limit numbers of folk attending, we are unlikely to celebrate Communion, sing during services, have full provision for children's groups or be able to socialise over coffee afterwards.

Our intention would be to maintain our online services on Sundays for the foreseeable future.

In the light of these restrictions on services, would you still want to attend a service at St George's as a starting point?
Definitely

Yes


Definitely

No


Unsure

(Please say why you have given this answer)
Please email your response to office@poyntonparishchurch.org.
Please put "Questionnaire Response" in the subject line and "Yes", "No" or "Unsure" as your message. If your response is "Unsure" then please tell us why you have given this answer. Please include your name in the message and, if you are responding on behalf of your household, then please state the number of people in your household.
Alternatively, you may make a written response on paper and send to Lucy in the church office, your homegroup leader or any member of the Leadership Team.
Download response form for written response.