APCM (Annual Meeting)
This is to be held on Sunday 25th October -11am in church or watch on Zoom.
Space is limited in church, so please let us know you are intending to come by e-mailing meetings@poyntonparishchurch.org. You can view or download the Annual Report for 2019 here.
Remembrance Sunday
Sadly, we are unable to hold our usual Remembrance Sunday service this year. However, we will be livestreaming our service via Facebook. Rather than physically attending the war memorial at 11am, please join us online as we broadcast the two minute silence, recorded at the war memorial earlier in the week.
Bonfire Night
In line with government guidelines, we are unfortunately unable to hold our annual bonfire and fireworks event this year. Please do not leave wood at St Martin's. We look forward to welcoming you back, with a bang, next November!
Holy Communion Services
Holy Communion services (with limited numbers) will be taking place at St George's and St Martin's.
Sunday at St George's at 6pm

Wednesday at St George's at 10am

Thursday at St Martin's at 10am
If you would like to attend one of these services you need to book a place via the Church Office. We will be reviewing this pattern over the next few weeks.
Streamed Sunday Services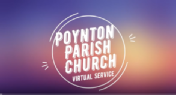 Our main Bible teaching and worship will be available on Facebook and YouTube at 10am on Sundays. There will be an All Age slot towards the start of each week, and members of the team and congregations will be involved in leading, preaching, reading, praying and leading sung worship.
The church Facebook page can be accessed here.
Instructions for using Zoom in Homegroups, After Church Coffee and Prayer First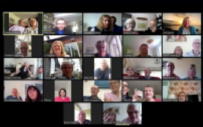 Zoom enables lots of people to talk to together and to see each other. You can use a computer, laptop, tablet or mobile phone. The basic account is free and can be used for a "meeting" of to 100 people at one time but meetings are limited to 40 minutes. To find out more about how to set up Zoom download this guide (with thanks to Jesmond Parish Church).
Homegroup leaders will provide log-in details for virtual homegroup meetings, after service coffee chats and Prayer First (Mondays at 8pm).