The online Convention will run Monday 27 to Friday 31 July.
Find out more here
Matthew's Institution Service
Matthew's Institution Service was on the 21st July at 7:30pm. It was not held in church but the service was broadcast live on a Zoom Webinar. If you missed it, or would like to view it again it is available here.
Re-opening of St George's
For individual prayer and reflection




(Following social distancing guidelines): Tuesday 9:30 to 10:30 and Friday 6:00 to 7:00 pm

For services???
We are consulting our congregations about the possibility of church reopening for services under restricted circumstances, substantially different from those which we have enjoyed in the past. For more details, and the opportunity to contribute to the consultation, please visit this page.
G

rapevine Offshoot
The current (June/July) online version of Grapevine Offshoot is available here.
Streamed Sunday Services
On Sundays, from 10am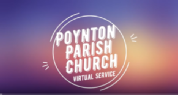 - 10:30am we will live stream a small service, which will be instead of our normal services. There will be announcements, a reading, and a sermon. Also, there will be a short meditation on Maundy Thursday at 7:30pm and reflections on Good Friday at 2pm. These will be via our church Facebook page. You do not need to be a member of Facebook to access this page; it will also be then put onto our website. All members of all four congregations are encouraged to engage with this medium.
Sermons
Sermons from the Sunday streamed service will appear on the website sermon page as usual.
Daily Dose of Joy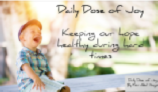 A daily reflection on Peter's first letter - an apt one as its a pastor writing to believers who are scattered, exiled, and suffering. This will be streamed live on facebook each morning at 9am here. Led by Aled. Catch up links may also be be accessed from our website here.
Words of encouragement and the beauty of God's creation.
"Hi all. I've been taking photos of flowers on my daily walk and have put some Bible quotes on them. The idea is that I've got something to look at when things feel overwhelming. I thought you might find them useful too." - Mike Batty. Click here to view.
Jumping for Joy
Announcing Daily Dose

of Joy for primary school aged children! S.T.U.I.P.D Man (a character I invented five years ago) will through his unique brand of comedy help children to have time each week to focus on one big and good thing about God. This is streamed live on Facebook and catch up links are on the website.
Lent Course on Prayer
After the first week we were no longer able to meet together for our lent course but this was streamed live via our facebook page on Mondays 9th, 16th, 23rd and 30th March. You can catch up on our website and download study sheets here. Led by Aled.
Instructions for using Zoom in Homegroups, After Church Coffee and Prayer First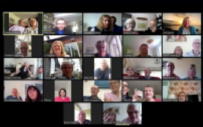 Zoom enables lots of people to talk to together and to see each other. You can use a computer, laptop, tablet or mobile phone. The basic account is free and can be used for a "meeting" of to 100 people at one time but meetings are limited to 40 minutes. To find out more about how to set up Zoom download this guide (with thanks to Jesmond Parish Church).
Homegroup leaders will provide log-in details for virtual homegroup meetings, after service coffee chats and Prayer First (Mondays at 8pm).

Our new vicar
Click here to read about our new vicar and what he says about Poynton Parish Church in his Palm Sunday address.

Introducing the new Bishop of Chester
A message from Mark Tanner and his wife Lindsay, to the Diocese of Chester. And a big welcome from the Diocese of Chester.
A message from the Leadership Team (30th March 2020)
Poynton Parish Church Annual Report January - December 2019
Our Annual General Meeting was due to take place on 30th April. This has now been postponed until later in the year. The annual report, which is normally distributed at this meeting, is now available here.